I have time periods in my life where I felt truly stuck as though my momentum had been sucked away, no decisions and were being made and a total halt of all forward progress occurred. When I further considered what specific behaviors led to me feeling that way I realized that often it was indecision that led to this feeling of being stuck. I realized that there would be value in creating a methodical real-life methodical approach to decision-making that considers two factors: Immediacy vs. the amount of total information you have at that moment. I discovered that a graph similar to that of logarithmic functions can be used to effectively illustrate the effect of these two competing factors in the decision-making process.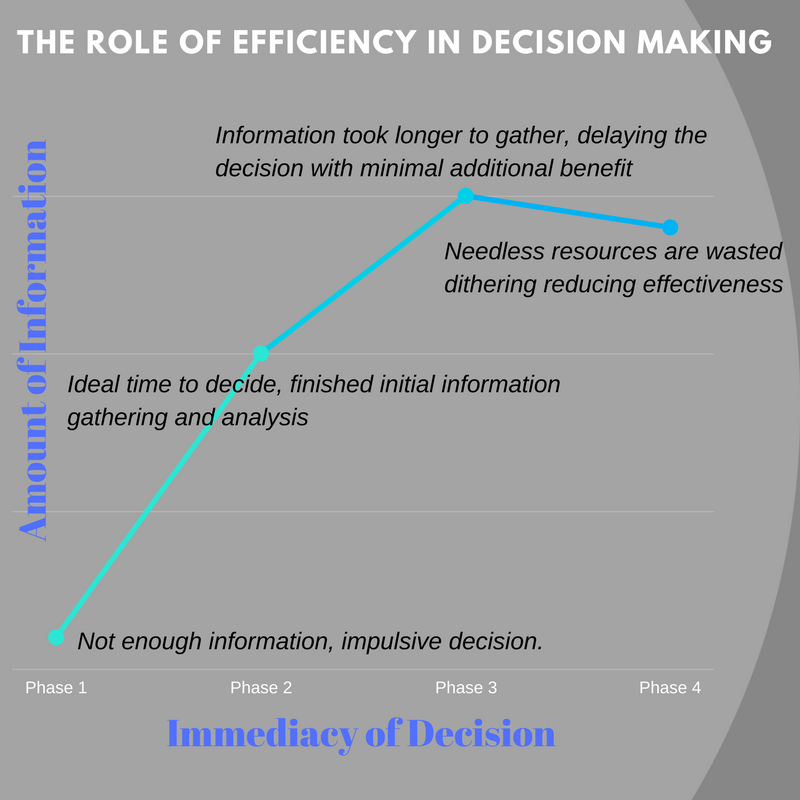 Let's use an example to understand the 4 phases of the decision-making model highlighted above. Let's say I am a CEO at a small business and one of the most trusted members Joe of my team has just told me that we have quoted an incorrect cost for the past few months for the computer chips in the budget of a very big business proposal. We have offered to sell this computer chip at cost instead of at a profit, and the deal has been structured around this assumption. we have worked on this deal for months and I have already invested thousands of dollars and hundreds of man-hours in putting all the pieces into place. The proposal is due in one week and I spent months getting this supplier to offer rock bottom prices so the bottom line is both profitable for me and tempting for my client.
Problem Statement: We quoted the wrong cost to a potential customer if this deal goes through it will not be profitable.
Implementing the Decision-Making Phases in our Example
Phase 1 – Impulsive decision
You don't spend time considering your next steps and make a hasty decision.
 As CEO you make a quick on-the-spot decision to just change that line item in the budget, you instruct your employee to just make the changes and move on to the next pressing issue. Although you have resolved the issue quickly you didn't think the consequences through. Your potential customer noticed that you changed the bottom line of the budget without informing them about the change. They think the fact these last-minute changes were made without notice makes you untrustworthy. They have become concerned about your reliability and honestly as a partner, and have decided to pull out of the deal in favor of a different bidder.
This reactionary course correction occurred because as the CEO I had a lot of things on my mind and didn't take the time to think through all the various implications of what my employee just told me. This short-sighted decision prioritizes immediacy over understanding/information. The lack of long-term planning will likely lead to negative outcomes.
Phase 2 – Ideal Decision
You spend some time considering various decisions, then, you decisively commit to a course of action and move on to the next challenge.
You ask your employee who noticed the error to propose 3 different options by the end of the day on how to move forward. You also spend the rest of the day thinking about the problem yourself. At the end of the day, you both meet and decide on a strategy to present this issue and your proposed solution at the meeting you have scheduled for tomorrow morning. This way you will prove how seriously you take the issue, and along with your proposal on how to move forward, you will control the issue. You have balanced the needs and expectations of the involved parties in this issue and that thoughtfulness and planning have advanced your standing with both your customer and your employee while consuming limited company resources.
As a leader and a vendor, you must always balance the needs to move quickly, dedicate resources to various projects, and be profitable all while keeping shareholders happy. This action has led to a decisive quick yet strategic course of action of which you have already had time to plan for. This balance helps you invest your time and resources wisely and efficiently.
Phase 3 – Delayed Decision
While the timing of this decision has been delayed, a little extra information has been gathered
You take this problem very seriously and as such want to spend as much time and effort as possible arriving at the best decision possible. After 3 meetings spent discussing strategy with different teams you bring in a marketing specialist and a graphic designer who put together some great looking handouts that do an excellent job illustrating the issues and show how much time and thought you put into resolving this issue. In the meanwhile, however, the projects that the people involved in crafting the strategy along with the marketing team's work has been slowed significantly which has pushed the deals closing timeline back a few days. 
This decision doesn't usually result in immediately catastrophic consequences, however, the over-dedication of resources to making everything perfect can slow operations down if it is applied too fastidiously. The justification behind this form of decision-making bears a striking resemblance to the thought process that takes place within the minds of perfectionists. So much time and effort are invested in perfecting a decision that is already "good enough". Those resources can't be spent on any other work in meanwhile often causing delays and inaction, but producing a slightly more polished decision.
Phase 4 – Dithering
You are wasting time dithering and trying to make the perfect decision learning minimal new information at a great cost
You take this problem very seriously and throw as many resources as possible at the issue to make the best perfect decision. You feel confident in your course of action after 5 strategy meetings, a marketing specialist, a graphic designer, and an entire video production crew have been dedicated to resolving this issue. You have spent weeks preparing this presentation, you record a perfectly scripted and executed movie to go along with the handouts that your marketing team put together. You focus on repeating the keywords that your team put together for you in the strategy meetings as well sure that you will impress the customer. In the meantime, weeks have passed and the customer has already noticed this issue and has waited for you to bring it up. They think you wasted a lot of time and money putting together an elaborate media presentation when a conference call would have been enough to get your point across and could have been done weeks ago. Once the customer also discovers that the deal timeline has now been pushed back due to a lack of resources for the past few weeks they start to question your judgment and consider pulling out of the deal altogether.
This type of decision-making often leads to catastrophic outcomes as it provides a  clear demonstration of a complete lack of situational awareness and an inability to act decisively. While these traits can be valuable in certain niche's, in today rapid and modern business environment such traits are usually perceived as severe handicaps that prevent progress. This negative perception coupled with the disastrous time-management often associated with the perfectionists is a toxic combination that can easily ruin a collaboration.
In Conclusion
Another Factor that I will discuss in a later article is called commitment bias, think of it as sticking with a decision no matter what the negative consequences are. Commitment bias increases as more resources are allocated to a project lending a sense of momentum that can't be stopped to a decision. While each decision is important it is also critical to remember that we are all human and make mistakes. Never look at your decision as written in stone, rather consider it a first attempt at the best decision you can make. If there are things you need to tweak or change, just use the process again and revise you decision. Think of it as iterative decision-making, which is to say making a good decision, until you improve it with the next one. May we all good decisions at the right phases for us in the decision-making process and may we always be flexible enough to revisit them.